My name is Brenda Cavaness and I live in a small town in the NE corner of Paragould Arkansas along with my husband Ron and three children;Angela, Ashley; and Cody.Our family is owned and loved by three standard poodles: Lori, Leah, and Banner. Along with a few toys;Chassi, Lacey, Havana, and Paolo.
What a job!

Does he have a hard life or what?!?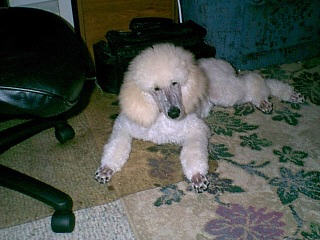 Leah at 4 months old. She is seldom this still!